John Young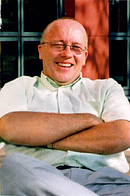 When Elaine Young's husband died suddenly from a brain haemorrhage she felt immense pride that through her grief and devastation she was able to carry out her husband's wishes to help people after his death.
She had been with John for 42 years (married for 36) since they were teenagers, and over the years, together with their three children, had openly discussed organ donation.
John, a retired Group HR Manager at HBOS, had been a regular blood donor and his family always knew that if anything ever happened to him he wanted to donate his organs.
Elaine, from Norwood Green, said: "When the doctor approached me, there was no decision to be made, John had made his feelings regarding organ donation very clear years ago and we respected his wishes. I know he would have been so disappointed if we hadn't done what he wanted".
After John died, his organs and tissues were removed at Calderdale Royal Hospital and Elaine later learned that there were 42 recipients, a young woman, who suffered kidney failure after having a baby and a 57-year-old father of two, the same age as John, was among them.
It also helped that their children, Joanne, Michael and Andrew understood their father's wishes. She adds: "At the time of John's death I was trying to comfort the children and if I had had to persuade them about organ donation I don't know if I would have been able to. The staff at the hospital were brilliant throughout, the doctor raised the subject very sensitively and I have never doubted, regretted or questioned that decision and we remain immeasurably proud of John."
She said it was vital that anyone who wishes to become a donor makes sure his or her family and friends know of their wishes – or in some cases organ donation might not happen.
She adds: "John was a very generous and giving person who felt strongly about donation, and, knowing that was a great comfort to us."
Elaine, who works at the West Yorkshire Forget Me Not Trust Charity Shop in King Cross Halifax, cherished their time together and sincerely hopes her story will encourage other families to have that all important discussion.