Attending a live event or question & answer session at CHFT
Calderdale & Huddersfield NHS Foundation Trust (CHFT) have now started to deliver some live events for patients online.
The live events are available to patients in different ways depending on the service.
Live events are set up so that you can attend as part of a larger audience, such as a question and answer session with one of our staff members or a presentation. You will be able to watch and listen to the event, but you won't be on the screen. No-one will be able to see you.
A live event might include presenters who will be talking, sharing videos or a presentations. There may also be the chance for you to ask questions which you type in on your screen.
Select Q&A. on the right side of the screen. Note: The Q&A panel only appears if the organizer has set it up.
Type your question in the compose box, and then select Send. If you want to ask your question anonymously, select Ask anonymously.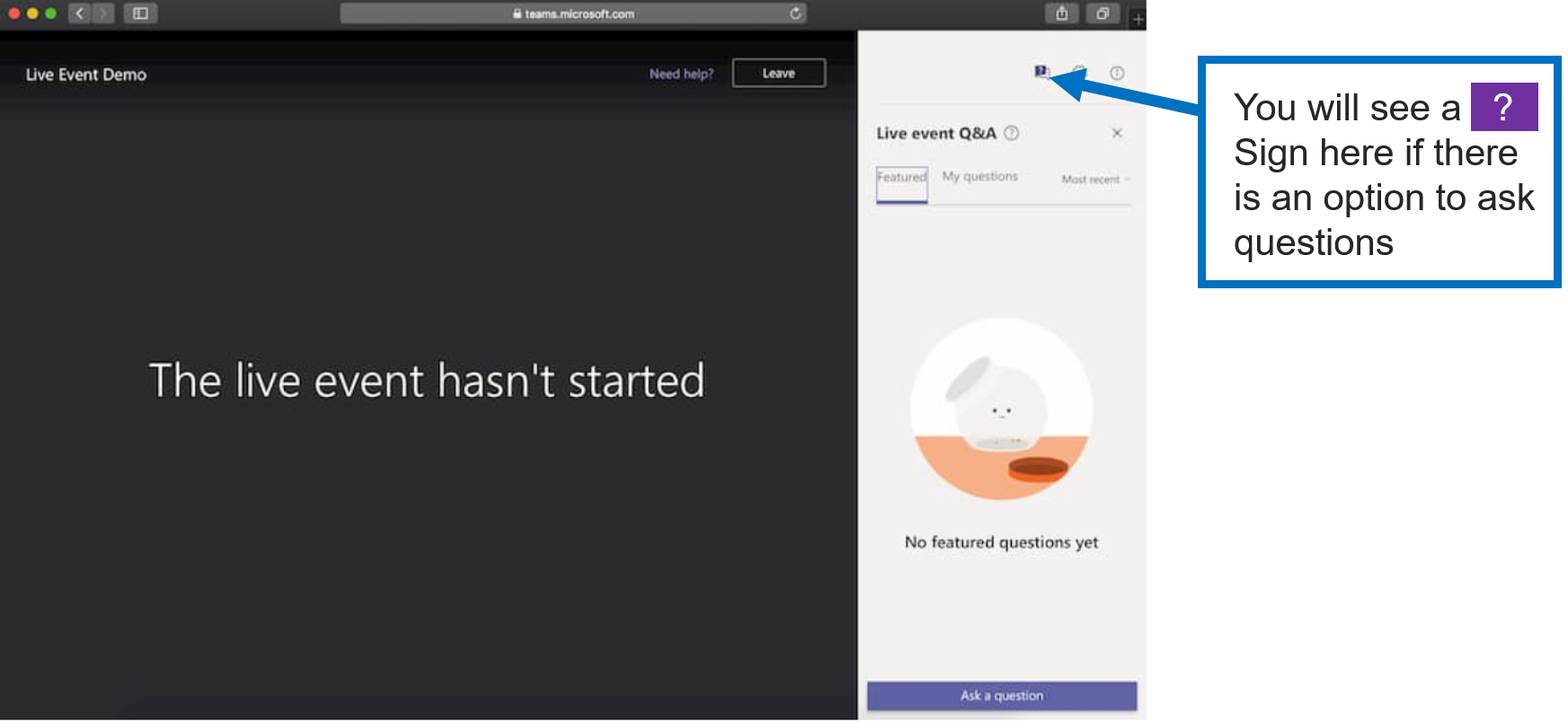 Live events are a great way for our organisation to present information to a large audience without having to arrange an event at the hospital or other location.
There are different ways that you might access a live event.
By invitation
If you need to be invited to a live event a secure link will be sent to you in an email from CHFT (once you have consented). You will be able to tap/click on the link at the time of the event to watch online and ask questions.
Access from our website or closed Facebook groups
The event might not need an invitation and you might see it advertised by one of our services. If it doesn't need an invitation you will be able to tap/click the link from a secure location like a closed Facebook group or a page on the CHFT website at the time of the event to join.
Feedback - patients who have attended our live events have said:
"I just want to say thank you for answering our questions in so much detail. It is really reassuring and helpful at this uncertain time. Thank you all and stay safe."
"Thank you for continuing with the Q&A sessions, they are really useful and it's great to touch base with you every week."
"Thank you so much for giving your time to answer questions it provides such reassurance."
"Thank you. I really appreciate this session. It helps me feel that we are not forgotten."