Total Hip Replacement (THR)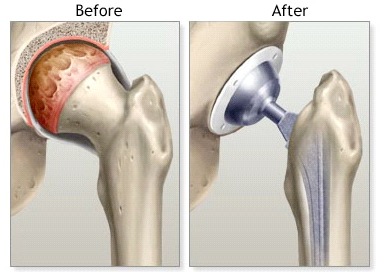 A hip replacement is a common type of surgery where a damaged hip joint is replaced with an artificial one (known as a prosthesis).
A modern artificial hip joint is designed to last for at least 15 years. Most people experience a significant reduction in pain and some improvement in their range of movement.
Joint School
Prior to your surgery you will be sent a home circumstance form; please complete all relevant information, including heights of all furniture. This will help our Therapy team assess for equipment (blank forms available below).
You will also be invited to attend Joint School, this is an educational group session with your therapy team to help you prepare for your operation. Any equipment requirements can be ordered prior to surgery when in Joint School. It is highly recommended by your surgeon and us that you attend.
These take place on a Tuesday at 10:30 at:
Physiotherapy Department
2nd Floor
Calderdale Royal Hospital

01422 224198
Home circumstance form
Once equipment has been ordered Loan stores will contact you for delivery . PLEASE do not turn the equipment away as this will result in the whole order being cancelled; this could result in your discharge being delayed after your surgery has been completed.
Click here to download the form.
Start to plan your return home
How will you manage at home? Start to think today how the shopping, cleaning , cooking will be done. Will friends or family be able help with smaller tasks? In the kitchen if you live alone, get prepared fill the freezer, move items to work surface. You might need a seat in the kitchen or bathroom to rest on so you don't need to stand for a long time.
You may need a trolley if you live on your own, to carry things from the kitchen because on discharge you will be walking with a walking aid for example sticks, crutches or zimmer frame; we can supply kitchen trolleys.
Other things to consider:
We can supply raised toilet seat/frames
Chair/Bed raisers, some cannot be raised
We are unable to provide chairs
Stair rails you need at least one
We will provide zimmer frames, crutches or sticks for use on the ward and at home.
All items except dressing aids are provided by social services. Small dressing aids for example helping hands or sock aids have to be self-purchased.
Alternative supplier details
Age UK Seamless Service - Can take home/settle you in and do light shopping – for Calderdale and Huddersfield, ring for pricing and availability on 01422 252040. Free of charge for over 50's.
Gateway to care: Kirklees (01484 414933) - Contact for local services, pricing and availability.
Gateway to care: Calderdale (01422 393000) - Contact for local services, pricing and availability.
Age UK - Befriending service, shopping, cleaning for over 55's Calderdale and Kirklees. There is a charge for these services which is dependent on district/service required.
If you have any issues with equipment before or after your surgery please call:
Halifax: 01422-306726 / 01422 306728
Huddersfield: 01484 728970 or 0845-340-4432
Pre-Op Exercises
When at joint school you will be shown exercises which must be completed before and after your surgery. These will ensure that your muscles are strong and improve your recovery. Please complete the exercises 3 times daily. If the exercises are too painful please speak to your physiotherapist.
To download the exercises click here.
On the day of surgery
Please remove any Jewellery, Piercings, Nail polish or Acrylic nails prior to surgery
Please do not bring valuables into the hospital with you.
Mobile phones are allowed.
Please do not bring plants/flowers
Please pack comfortable, loose fitting clothing and suitable footwear which allow for swelling.
Dressing aids – PLEASE BRING THESE INTO HOSPITAL TO ENABLE INDEPENDENT DRESSING.
Therapy
Following your surgery you will be taken to the ward; either on 8B or 8A. Therapy will see you 3 hours post-surgery and if you're well enough will help you out of bed and teach you your exercises.
Therapy will review you twice a day, this will involve practising walking, completing your exercises and practising independent washing and dressing. You will also need to complete your exercises independently 3 times a day.
Length of stay following a hip replacement averages 2-3 days, some people do go home within 24 hours. You will only go home once you're medically fit and you're safe to return home.
Pain
Managing pain levels is important post -surgery. When on the ward you will be given regular pain relief. If you feel that your pain killers aren't working please let the ward staff know ASAP. It is important that you take the pain relief for the best recovery.
Visitors on the ward
Visiting time is 10.00am-8.00pm
Meal times are protected 12.00-1.00pm and 5.00-6.30pm
2 Visitors to a bed.
Please discourage anyone from sitting on your bed or chair due to the risk of cross contamination.
Hip Precautions
There are a number of hip precautions you will need to follow for 12 weeks after your op.
Do not bend your hip more than 90
Do not cross legs
Do not twist
Post surgery you may ONLY sleep on your back or your operated side. When getting out of bed operated leg should lead. (In with good, Out with bad)
Once home you will be able to:
Make simple/light meals
Wash and dress yourself
Have a shower once advised (after 10-14 days)
Occupational therapist can complete ward based assessments if required, for washing/dressing, transfers.
Kitchen activities if required.
Once home you will not be able to:
No heavy shopping
No heavy cleaning
No changing bedclothes
No carrying of heavy items
You are unable to drive for 6 weeks after surgery. Once permission has been given off your consultant to resume driving you are then advised to inform your insurance company this should be done prior to driving
We are an early supported discharge team. Once home we will contact you to arrange your first assessment visit. This will be within 48 hours of discharge. Visits start from 8.30am Monday to Sunday. If you live in a hard to access area please inform us prior to visits. Please inform us if you plan on staying with a relative or friend on discharge.
All provided equipment belongs to Social Services. Please do not bring any used equipment back to the hospital. To return loaned items contact loan stores who will arrange collection for you.
Halifax: 01422-306726
Please do bring back any walking aids; we will recycle these!
As a Huddersfield patient your after care will be completed by the Locala therapy team. They will be contacted on the day of your discharge. Locala work Monday to Friday.
Locala: 08453 404432
All provided equipment belongs to Social Services. Please do not bring any used equipment back to the hospital . To return loaned items contact loan stores who will arrange collection for you.
Huddersfield: 0845-340-4432
Please do bring back any walking aids; we will recycle these