Maternity Services
Welcome to our Maternity Services
We know that having a baby can be an exciting time, but also a time when you have lots of questions. We hope that you find our website informative and that it helps you to plan your care during pregnancy, birth and beyond.
Our team of midwives, maternity support workers, obstetricians, anaesthetists, theatre staff and paediatricians look forward to meeting you and to working with you to help you to make informed choices about your care. Our aim is to provide high-quality, safe care that meets your individual needs and that of your baby. Whether you chose to have your baby at home, in one of our birth centres or on our labour ward we want you to have the best birth experience.
If you are pregnant and live in Calderdale and Huddersfield please contact your local community midwifery team as soon as you know you are pregnant so that we can arrange to meet with you and plan your care.
Meet the team
The Governance Team
The Team
Elaine Brotherton – Patient Safety and Quality Lead
Claire Gruszka - Patient Safety and Quality Manager
Kathy Kershaw – Clinical Governance Midwife
Jill Bellerby – Risk Management Midwife
Carol Gregson- Electronic patient record (EPR) Lead
Emma Hardwidge Electronic patient record (EPR) Midwife
The Maternity Patient Safety and Quality Team
Our team are here for you-
We will report, monitor and investigate untoward incidents and we will actively listen and respond to concerns, complaints, suggestions or queries to help make your experiences as easy as possible.
We will support you through the incident investigation and/or complaint process which can be an anxious time as a patient, relative, friend or visitor
We will monitor any problems arising, identify any gaps in services and escalate to the relevant service area.
We will help the service and the organisation learn from experiences, incidents and concerns.
Our pledge is to:
• Foster a safety culture, which is open, supportive and transparent.
• Aim to implement a zero tolerance toward avoidable harm.
• Continue to empower out teams to provide the skills they need to provide safe high quality care.
• Constantly monitor standards of care and respond quickly if there are concerns.
Maternity EPR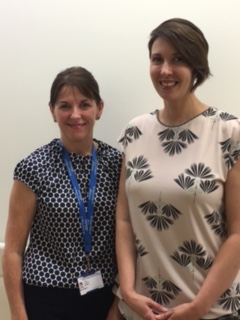 CHFT Maternity has had an electronic system since June 2015 and is currently being managed by Carol Gregson and Emma Hardwidge.
Our aim is to support all levels of staff that use the system, work with IT and the supplier in managing improvements, enhancements and deal with any service issues, to ensure the system is safe, managing risk accordingly and ensuring that the Electronic Patient Record is as comprehensive as it should be at any given point in a pregnancy.
The transition from being a predominantly paper based record has been a challenge for all but thankfully due to the commitment of not only the Maternity EPR Team but all of the Division we are now reaping the benefits of the system in delivering high standards of care based on NMC, RCOG, local guidelines and the recognition of good practice by clinicians.
The Maternity EPR is as contemporaneous a document as it can be from the first point of contact in the community setting by the Community Midwife to the bedside of the woman labouring, allowing up to date information to be captured at the time of delivery of care with the ability to be able to review that care at the point of contact or remotely.
We continue to explore new ways of working with the System in order to further enhance care.
Community midwifery services
Across the Calderdale and Huddersfield Community Midwifery service we offer care throughout pregnancy, birth and beyond.
The Midwife will work in partnership with you throughout your pregnancy and post-natally to develop a personalised care plan, to meet your individual and family's needs. We offer care in a number of settings including your local GP surgery, Children's centre or outpatient clinic. You will be offered care by a team of Midwives and Maternity Support workers with one identified Midwife who will co-ordinate your care.
The community Midwives work collaboratively with a number of other services to ensure you receive the highest quality and safest care possible. We have a number of specialist Midwives and professionals to support women with specific health and social needs.
Throughout your pregnancy you will be offered sessions to help prepare you for labour, birth and life with a new baby. We are able to offer these sessions in a number of venues at various times including evenings and weekends. We work with other agencies including the family support and Health Visiting teams to provide this high quality service.
All our community Midwives are baby friendly trained to ensure they can support you and your baby in your infant feeding choices. We have 2 dedicated sessions with infant feeding specialists across Calderdale and Huddersfield that you are able to access. We also work closely with voluntary agencies to provide peer support for women choosing to breastfeed their baby.
You have the choice of four birth settings, our community Midwives provide a fabulous 24 hour Homebirth service or you may choose for your labour care to be provided in one of our free-standing or stand-alone birth centres. We also have an obstetric labour ward that is dedicated to providing care in higher risk pregnancies.
Antenatal Clinics
CHFT provides Antenatal clinics(ANC) at both hospital sites offering a full range of care.
Women are usually referred to the ANC by their midwives or GP. However, women out of our catchment area can self-refer to birth with us using the CHFT homepage.
Our Commitment within the Ante-natal clinic team is to provide the highest level of equitable care for women and families.
Working together to ensure women feel supported and listened to, whilst respecting individual values and beliefs.
Our Teams include:
Consultant Obstetricians, Midwives, Consultant Midwife, Health care assistants, Reception team and Sonographers.
We offer women and Families Multi-disciplinary input for -
Diabetes - Consultant Obstetrician, Consultant Diabetologist, Diabetic specialist, Nurse, Diabetic Specialist Midwife.
Joint Haematology clinic
Epilepsy - Consultant Obstetrician, Epilepsy specialist nurse.
Fetal medicine Consultant- Providing Consultant sonographic assessment of pregnancy. The Antenatal Screening midwives work closely within the team to offer women support and guidance when required.
Upbeat clinic – offering support and guidance for exercise, and healthy lifestyle in pregnancy.
Substance misuse – Working closely with Specialist Midwives
Our expert team of midwives and doctors work together to give you the care and support you need in your Pregnancy.
Maternity Assessment Centre
Based at Calderdale Royal Hospital the Maternity Assessment Centre (MAC) provides 24/7 cover to all women booked with our maternity service over 16 weeks gestation and up to 6 weeks post-partum. MAC provides both telephone triage assessment and direct patient care on a pre-booked, self-referral and multidisciplinary referral system.
If you think you might be going in to labour, your waters have broken, you are experiencing bleeding or have any other concerns about yourself or your baby you can contact our Maternity Assessment Centre by telephone 24 hours day 7 days a week where you will be able to speak directly to a midwife.
In Maternity Assessment Centre our aim is to triage you within 30 minutes of arrival and to aim for a total length of stay under 4 hours. We strive to provide safe, timely, effective assessments which in turn will result in evidence based plans of care. We foster a culture of multidisciplinary clinical decision making for the benefit of you and your family and we hold you at the centre of each of these decisions. We do ask that you bring your hand-held records with you to the hospital to assist us with this process.
MAC Manager Laura Douglas
Labour ward - LDRP
Based at Calderdale Royal Hospital our labour ward provides a Consultant led facility for women requiring additional multidisciplinary input. Here we strive to provide the highest standard of personalised care, always ensuring the woman is at the very centre of all decision making.
Our labour ward receives patients from a variety of locations, such as directly from home, via Maternity Assessment Centre, from the induction of labour suite, from either of our Birth Centres or from the postnatal wards. For this reason, it is important we have close working relationships with our colleagues in each area to improve your patient experience and keep you informed of any plans for transfer.
On the labour ward we have 16 en-suite single rooms and a 4-bedded bay which are configured in a way to provide the following care: 11 labour rooms with one of these being designated for those families sadly experiencing a pregnancy loss, 5 maternity step-down rooms for women requiring closer observation either antenatally or postnatally and a 4-bedded antenatal area. We also have one birthing pool to support active water birth for women requiring Consultant led care but wishing to utilise the service.
Our labour rooms are set up in a way that the facilities can be adjusted to your needs. We can support both active birth or facilitate care of an epidural. Our midwives will work with you to support you in achieving a personalised birth adapting to any changing circumstances throughout your labour.
Following the birth of your baby you may remain with us on LDRP or be transferred to one of our two postnatal wards for additional support and ongoing care. For some women if all is well you may be supported to have a discharge home from hospital from around 6 hours following the birth of your baby. If this is the case, we would aim to get you home in a timely manner, but this is dependant on various checks and processes that need to be carried out.
Birth centres
Have you thought about having your baby in a relaxing home-from-home environment?
At Huddersfield and Calderdale Birth Centres we have a dedicated team of experienced midwives who are able to support you to have a natural, active birth whilst providing compassionate and safe care.
Research suggests that having your baby in a Birth Centre can increase the chances of achieving a normal birth and reduce the risks of intervention, such as, assisted birth, episiotomy, need for medicinal pain relief and caesarean section (Birthplace study, 2011). Women who have their babies at a birth centre are more likely to birth in water and report higher levels of birth satisfaction.
At Huddersfield and Calderdale Birth Centres you will be provided with one to one care when you are in labour and we encourage you to bring the birth support partners of your choice. We have the facilities here to accommodate birth partners so you do not have to be separated in those important first hours as a family. We have twenty four hour open visiting for your families and friends. There are kitchen facilities for you to use and a quiet room for contemplation on Huddersfield Family Birth Centre.
What some women have said about their births at Huddersfield and Calderdale Birth Centres:
"All the staff on the birth centre treated me with such care and attention- a real home from home feeling"
"Thank you so much for all the help with the birth and for all the help with learning to breast feed afterwards. You have all been amazing and built our confidence so we are heading off as a confident family. The help and knowledge will never be forgotten"
"The support both physically and emotionally has been second to none. At no point could we have wished for a better level of care"
"All the staff on the Birth Centre makes you feel a million dollars! The level of care compassion and consideration is beyond belief. I am so grateful for all the support- Angels, thank you"
Ward 1D
Ward 1d - postnatal
Ward 1D is a 14 bed postnatal ward. The lay out of the ward is made up of 2 x 4 bedded bays and 1 x 3 bedded bay with 3 single rooms. It has 2 communal bathrooms with a further 3 en-suite bathrooms in the side rooms.
The ward operates an elective LSCS(Lower Segment Caesarean Section) list each morning. Monday to Fridays, and has the capacity to do 3 Elective LSCS. The ward staff are part of the multidisciplinary team that supports the pre-assessment clinic which takes place on a Thursday afternoon in the antenatal clinic. This provides a really useful link for the ward team in meeting high risk women prior to their surgery which allows the ward to plan, assess risk and improve patient experience.
Women coming to the ward have experienced not only elective surgery, but may have had a forceps, ventouse, spontaneous vaginal birth or an emergency caesarean section. Depending on type and any complicating factors, additional cares in the form of IV antibiotics, neonatal observations and caring for pre-term babies is part of everyday practice on the ward.
The turn-over on the ward is rapid with the average length of stay just 36 hours. We offer enhanced recovery to the elective LSCS patients for whom this is appropriate meaning they often go home 24 hours post elective LSCS.
We look forward to welcoming you to ward 1D either before or following the birth of your baby.
Pre-assessment clinic- Your road to enhanced recovery
So you've booked your elective,
You're counting down the days,
It's time to visit Pre-Assessment,
Antenatal Clinic's the place!

At Antenatal Clinic you will be seen,
By most members of the team,
To discuss guidelines, procedures, take it all on board,
Ready for your new arrival on the ward.


So you've got your literature, blood forms and meds,
We've measured your calves for your precious TED's.
Preparing your body with you we trust,
Starving before is an absolute must.

No spray tans, nail varnish and your bikini line is shaved,
A free wax with the dressing is not money you'll save.
If you eat in the morning you must tell a soul,
Just don't forget your Omeprazole.

It's early morning when you walk through the door,
You might have the Midwife you've seen before,
And when your Caesarean is completed and done,
You'll return to 1D with your baby as one.

Follow our advice to enhance your recovery,
Mobilise, hydrate but not too much family!
Regular painkillers and plenty of rest,
While helping your baby succeed at the breast.

At one day you go home in your role as a mum,
We hope that you have plenty of fun.
But remember your body has to heal,
No driving or housework or poorly you'll feel.
Time for your family to step up to the plate,
Don't get yourself in a tired, sore state.

We hope Pre-Assessment has made you prepared,
To undertake this journey and not be scared.
The care received was warm and understood,
To aid you on your journey to motherhood.

And when you time on ward 1D is complete,
You go home with baby to rest your feet.
Follow our advice and well you will stay,
Remember we're only a phone call away.
Screening tests for you and your baby
Hello and welcome to CHFT Screening Team:
The team members are Sandra Birkinshaw, team Coordinator, Nicola Pilkington team Coordinator, Alison Taylor Screening midwife and Jill Hickey administrative support.
Within this section we want to provide you with information on the screening tests that you and your baby will be offered. If you have seen your midwife she will have provided you with the booklet 'Screening Tests for you and your baby' or view it on the link below;
https://www.gov.uk/government/publications/screening-tests-for-you-and-your-baby-description-in-brief
When you first meet your midwife you will be offered a series of blood tests and scans and these are called 'screening tests'. It is the role of the screening team to ensure the Trust is offering you the choice of screening in a timely manner, to help you to understand the choices available and to provide unbiased further information if requested. Screening is a process of identifying apparently healthy people who may be at increased risk of a disease or condition. You can then be offered information, further tests and appropriate treatment to reduce the risk of any complications arising from the disease or condition.
We offer tests for:
Infectious Disease in Pregnancy
Sickle Cell and Thalassaemia
Downs syndrome, Edward syndrome and Pataus syndrome screening
Fetal anomaly scan
Newborn Hearing
Newborn Infant and Physical Examination
Newborn Bloodspot
Following a result which may be abnormal the screening team will be a point of contact for you and your partner. We will support you throughout your pregnancy and work closely with other specialities to ensure that we have a safe plan in place for when you have your baby.
If you would like any more information on screening, please contact a member of the team on 01422 222123.
To help you understand the time frames involved in screening and when you are likely to have the tests, Public Health England have devised a 'timeline'.
Public Health England have created an animated short video regarding 'Screening test's offered during pregnancy and after birth'
Topics covered are :
Video: What happens at a scan and what will they tell me?
https://www.nhs.uk/conditions/pregnancy-and-baby/screening-tests-abnormality-pregnant/