Team CHFT Staff App
Our CHFT staff app helps colleagues keep up to date with news from CHFT and more, wherever you are from your mobile phone.
It is available to download free to your smartphone and includes quick links to CHFT news, ESR, email, Allocate Me, wellbeing support, our networks and NHS staff discounts.
The app is provided to us for free.
We'll also be able to keep in touch using urgent notifications on any important news or urgent messages that might affect your day to day work.
You can feedback direct from the app once you've downloaded it or please do email engagementteam@cht.nhs.uk (links opens an email).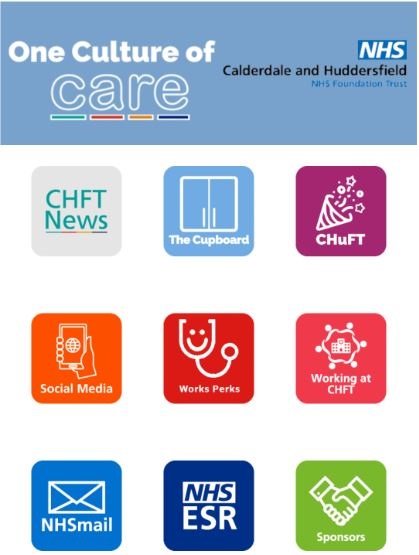 How do I download the App?
Click the link below or search for @CHFT on the Play Store.
For iOS – If you do not have the Apple iTunes Store please download this first on your phone by visiting the app store and searching iTunes Store. Once you have downloaded the iTunes Store, please follow the steps below.
Scan the QR code below with your QR reader or camera from your phone and then when the page loads up on your phone, click on the link to download below.
When you click the Download here link you will be asked to redeem a code which enables your device to install the app. Click 'Redeem' in the top right corner of the screen, then if you are prompted, enter your login details for the Appstore. This will then download the app to your phone.

Is this just for Trust mobile phones?
No, the app can be downloaded onto your personal smartphone.
If you have any queries or need help, please email engagementteam@cht.nhs.uk (links open an email).