Working for us
Recruitment Open Days. We're looking for student nurses, registered nurses, nursing associates and operating department practitioners. BOOK A SPACE HERE TODAY!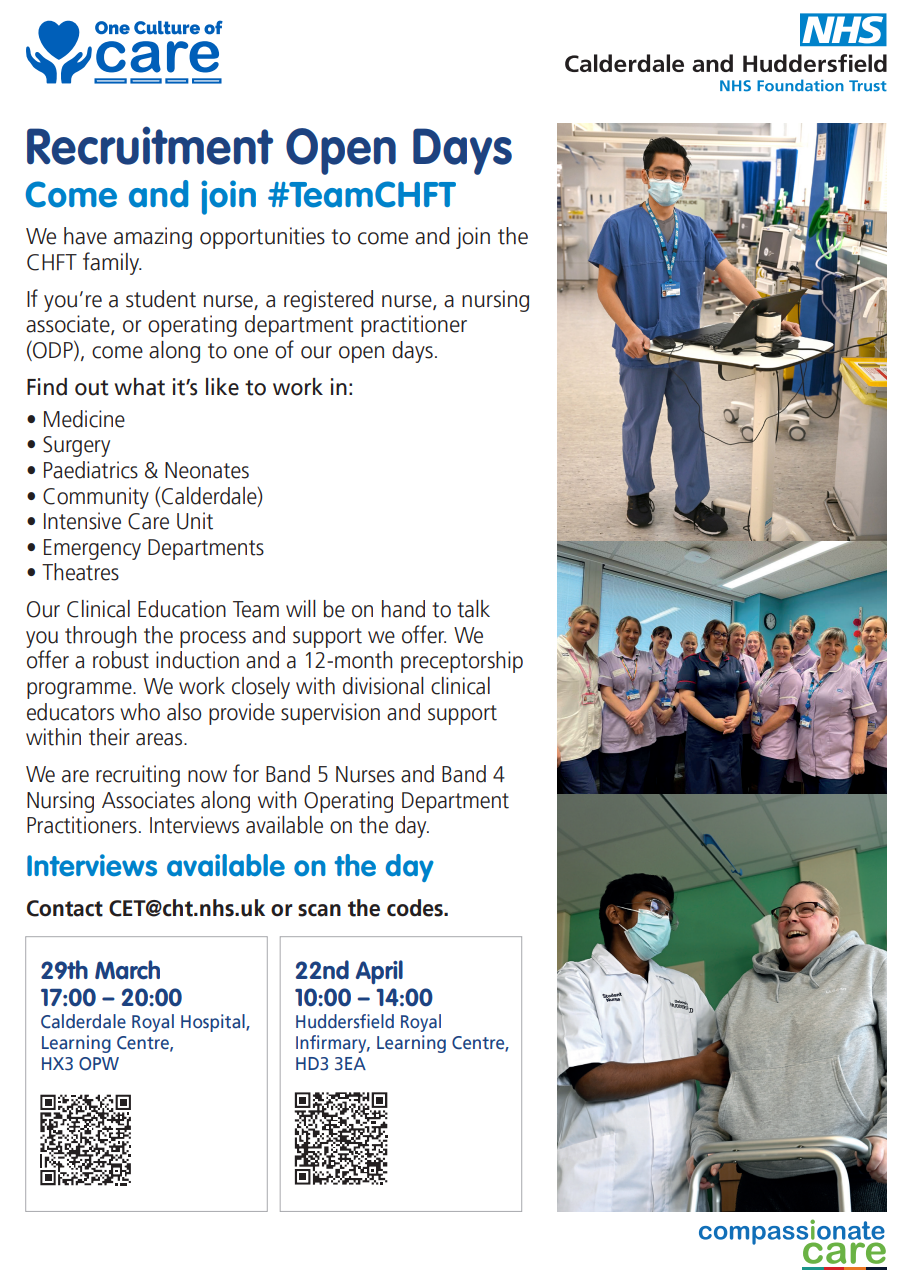 We have amazing opportunities to come and join the CHFT family.
If you're a student nurse, a registered nurse, a nursing associate, or operating department practitioner (ODP), come along to one of our open days.
Find out what it's like to work in:
Medicine
Surgery
Paediatrics & Neonates
Cardiology
Community (Calderdale)
Intensive Care Unit
Emergency Departments
Theatres
Our Clinical Education Team will be on hand to talk you through the process and support we offer.
We offer a robust induction and a 12-month preceptorship programme.
We work closely with divisional clinical educators who also provide supervision and support within their areas. We are recruiting now for Band 5 Nurses and Band 4 Nursing Associates along with Operating Department Practitioners.
Interviews available on the day.
Contact CET@cht.nhs.uk, pop along on the day or book via the links below:
Wednesday 29th March 2023 at Calderdale Royal Hospital 17:00 to 20:00
Book here: https://www.eventbrite.co.uk/e/recruitment-event-for-nursing-students-nursing-associates-rns-odp-tickets-569701451377
Saturday 22 April 2023 at Huddersfield Royal Infirmary 10:00 to 14:00.
Book here: https://www.eventbrite.co.uk/e/recruitment-event-for-nursing-students-nursing-associates-rns-odps-tickets-574277789327
We are #TeamCHFT.
Over the course of a week, we captured on film just some of the compassionate care that our teams deliver, both inside our hospital walls and in the community. One Culture of Care is at the heart of everything we do. Come and join us!
Talk to anyone who has used the NHS, and it is the people who looked after them that they will remember. Those working in the NHS will talk about the amazing people who provide care and treatment. We are proud to have been awarded a range of accreditation in recognition of our positive employment practice. Alongside being a Disability Confident Employer, we've also signed the Armed Forces Covenant and are a totally inclusive Trust.
We have a wide range of networks supporting our staff diversity and backgrounds.
Staff Benefits
We offer a wide range of benefits to all staff. Here are just some of them:
Excellent annual leave entitlement: 27 days, rising to 29 after five years NHS service and rising to 33 after 10 yrs service.
NHS Pension Scheme – excellent package of pension benefits, fully protected against inflation and guaranteed by the government
Occupational health service
Confidential staff counselling service
Flexible retirement scheme
Membership and close working relationships with staff side organisations
Long service awards and gifts
Training and development
Professional leadership arrangements
Flexible working practices
Fantastic opportunities for enhancing your learning and development
Chaplaincy services
Career breaks
Child care facilities, including childcare teams, nurseries and out of school clubs
Multi-disciplinary libraries and learning centres
Special leave policies
Staff newsletter, intranet and internet access widely available
Variety of discounts from local attractions and businesses
Find out what it's like working as part of the team at CHFT. Here consultant Neeraj Bhasin talks work, family and fabulous West Yorkshire and all it has to offer.