Appointments using Andor
---
You may be sent a video appointment using Andor. Andor is a company that works with the NHS to offer remote appointments to patients who do not require a hospital visit.­
You can watch the video below to help you get ready for your appointment.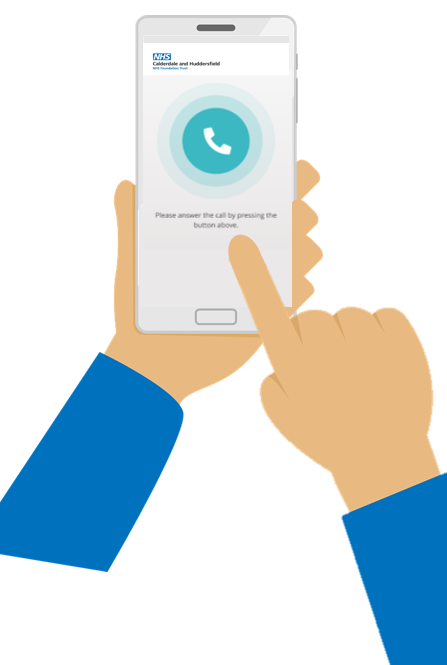 ---
As well as the video above we have added some information to help you get started with your video appointment using Andor. This includes what to expect before the appointment, how to join the appointment and some other helpful tips.
Click here for an explanation on how to prepare for and join the appointment
---
Some frequently asked questions
Below are some frequently asked questions that may help if you are having issues with your remote appointment. If you cannot find the answer you are looking for please do not hesitate to contact the department where you appointment is being held for support.
You will need a smart device. A smart device is something that has both a camera and speaker. You can use any of the following electronic smart devices:
A smart phone (mobile telephone)
A tablet
A laptop
A computer
Try to find somewhere quiet where you will not be disturbed.
Be aware that the clinician will see the room behind you.
Ensure the lighting is adequate e.g if you sit with your back to a bright window your face will be in a shadow.
The appointment will be sent through from NHS CHFT.
If you don't see the email it's a good idea to check your junk mail just in case.
You will also receive a text message to your phone with a link to join the appointment.
If you still can't find the email please call switchboard on 01484 342000 and ask for the service or department you were due to have your appointment with.
Some other issues that may come up during the video appointment
How can I check the technology is working?
If there's a technical problem (e.g. you cannot see or hear each other in the appointment try these suggestions:
Try using some headphones. These can be headphones provided with your mobile phone.
Type a message to the clinician using the text-based chat window (or see if the clinician has sent you a message).
If you are still having problem the clinician will contact you by telephone.
I am using a laptop and the sound is not working, what can I do?
Your windows microphone maybe disabled, to check this:
Right-click the speaker icon at the bottom-right corner of your PC's taskbar.
Select 'Open Sound Settings' option.
Ensure the microphone is selected.
In the Input section, click 'Device Properties' or 'Manage Sound Devices' option
Make sure the device is enabled and then click ok.
Once you and your clinician agree that the technology works, they will start the main part of the consultation, usually by saying something like "How have you been since I last saw you?" or "How are you feeling?"
How do we know who's turn it is to talk?
Due to delays in the connection it can sometimes be hard to tell whose turn it is to speak. If this happens:
Stop talking, acknowledge the problem, work out whose turn it is, and then continue. Nobody should be offended – this is just something that happens and can easily be overcome.
How do I make sure I capture important information?
If the clinician is giving you potentially important information about medications or dosages, ask them to repeat it to confirm you both have it correctly. You could also ask them to send this information via a short chat message, so you have it written down.
Will it get easier with time and practice?
It is likely that you will become more familiar and confident with the technology over time. So, if it seems strange or difficult for the first appointment, it may get easier for your following appointments.
What happens if I need a prescription?
Don't worry the clinician can still provide this for you. We will arrange for the prescription to be sent to the pharmacy at the hospital and it can be collected from there. If you can't collect the prescription we will ask if a friend or family member can. If no-one is able to collect it then it will then be delivered to your home or a pharmacy local to where you live.
If I need another appointment, will it be made by video again?
You and your clinician will decide what is best for your individual needs and discuss it during your appointment.
Some appointments (e.g. annual reviews) may need to be done face-to-face, some interim ones by video, and additional face-to-face appointments on an as-needed basis. You can take each appointment at a time.
If I feel the appointment could have gone better with someone else, could I arrange for a relative, friend or carer to be with me next time?
It is your appointment, so if you feel you would like someone to join or support you during a video appointment that is fine. Just let your clinician know that someone else is there and introduce them.
Will my appointment be private and secure?
At the time of your appointment you'll need to find a quiet, private space where you won't be disturbed.
To ensure security the clinician may check your date of birth, telephone number, or use another type of security question
If someone has helped me to set up do they need to stay with me for the appointment?
It is quite OK to suggest that they might leave the room once you've been connected to the clinician.
As in a traditional face-to-face appointment, it is your choice who sits in on your appointment – if you would like someone with you then that is your decision.
How can I find out more about CHFT's privacy policy?
For more information on the CHFT privacy notice you can visit the section on the website here.