Birth and beyond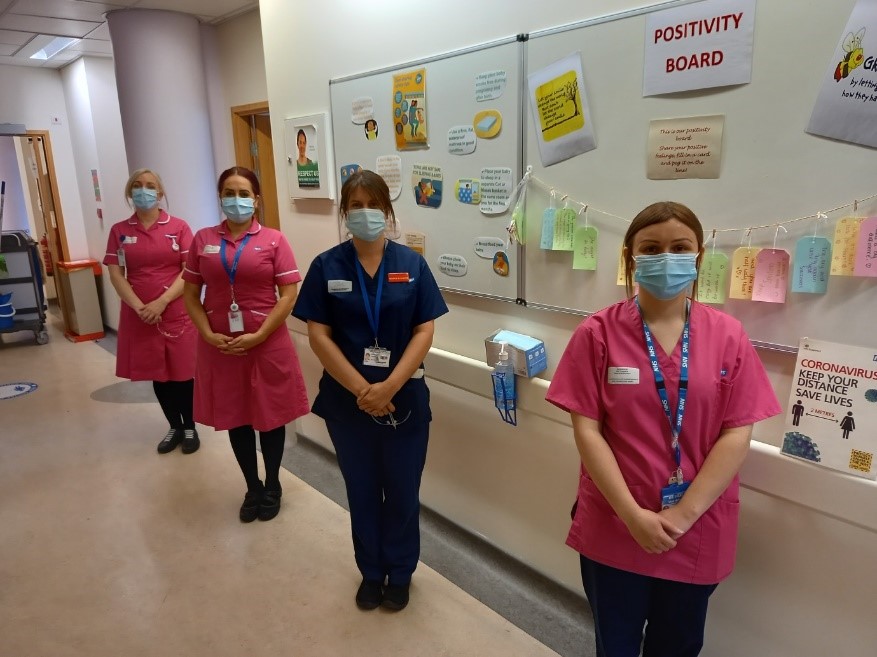 A midwife will care for you and ensure that both you and baby are kept safe. During your labour, birth and immediate postnatal period you will receive 1:1 care from a midwife, on the labour ward, birth centre or at home if having a homebirth.
Maternity Support Workers & Health Care Assistants (light blue uniform)
Both have similar roles with different levels of responsibility, and you may meet either of them if you need assistance with feeding your baby, support getting up to the shower / to the toilet and they may also take observations of you or your baby.
Student Midwives (white uniform)
We often have students at different stages of their training working under the close supervision of a Midwife. Student Midwives can often provide additional support to women as they are not in the staffing numbers on the ward. You can choose not to have a student midwife involved in your care.
Labour Ward Coordinator (dark blue uniform)
If you have your baby on Labour Ward, You will come across the labour ward coordinator at various points during your stay. Coordinators are the "team leader" on the ward and so will come around and introduce themselves and obtain an over view for each woman on the ward. They also come in and perform a "fresh eyes" in labour where they receive an update on what is happening in your labour and look over your baby's heart rate tracing (CTG), if you are having continuous fetal monitoring.
Ward Manager (dark blue uniform)
Each Ward and the Birth Centre has a Clinical Manager however when they are not on duty there will be a 'Midwife in charge' who wears a red badge. If you are not happy about something during your stay, you can ask to speak to the Ward Manager who will be happy to listen and discuss your concerns.
Obstetricians (theatre scrubs)
The obstetric team perform ward rounds on labour ward during each shift (night and day) and will come into each room and introduce themselves. If the midwife caring for you has any concerns for yours / your baby's health & well-being, the doctor will be asked to review you and make a plan with you. If there is an emergency situation, or if you require an instrumental delivery / caesarean section, then the doctors will be present to help you birth your baby. Doctors are only present on the labour ward, therefore if you opt to have your baby on the birth centre and needed their assistance you would be transferred up to labour ward.
Anaesthetist (theatre scrubs)
If you require further pain relief and opt for an epidural, an anaesthetist will come and provide you with it. Anaesthetists only work on labour ward and do not offer epidurals on the birth centre. You will also see an anaesthetist if you need to go to theatre. There, they will observe you closely and ensure you are pain free.
Paediatricians (theatre scrubs)
If there is any possibility that your baby may need a doctor when they are first born, for example if you require an instrumental birth or caesarean section, a paediatrician will be present for the birth of your baby. They are there in case baby requires any assistance following birth but will leave as soon as not needed. They can also be asked to come and review your baby if considered necessary while you are in hospital.
Matrons (dark blue uniform with red trim)
Our Matrons oversee the whole of our daily activities and staffing to ensure services are delivered safely. If you are unhappy about your care for whatever reason and this has not been resolved at ward level you can ask to speak to the Duty Matron. There is always a Duty Matron for the hospital day and night who can be contacted via switchboard.