Widening Participation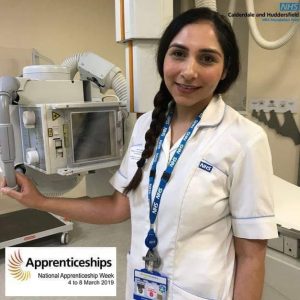 This is the place to jump start your career at CHFT
Our Employability and Widening Participation programs help to inspire people from our local communities
Did you know there are over 6500 employees here at CHFT?
We know that for many, a small taste of what it's like to work in healthcare is enough to raise their aspirations and fuel a desire to work in the NHS. This is why we are dedicated to building opportunities that targets areas of our local communities in developing work readiness skills.
Our Employability Hub page seeks to raise awareness of the many career opportunities available within the NHS and begin to create links with our future workforce and support you into your early career at CHFT. We are seeking those who share our "One Culture of Care" values
This is the place where you can find out about the range of our programmes
Are you getting ready for the world of work or looking for a change of career? Are you out of work and your ambition is to be part of the NHS? We can help you to take your first steps into a rewarding job and we will help you to reach your full potential and build a career with us.
St John's Ambulance Cadet Scheme
From January 2022 CHFT welcomed 70 young people to join SJA cadet scheme, embark on personal development programme and access CHFT employer related learning opportunities
Project Search
This partnership with Calderdale College and Calderdale LA goes from strength to strength supporting cohorts of young people aged 16-24 with additional support needs who benefit from a 38 week placement, employability support and real world support (Insert Project Search Video here)
Princes Trust
This partnership with Princes Trust supports unemployed young people on short term placements to support progression into healthcare apprenticeship pathways and volunteering.
Please contact employability@cht.nhs.uk
T Level Cadet Scheme (Sept 2022)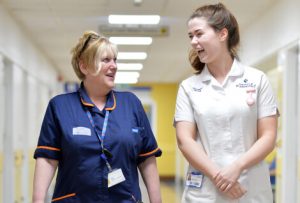 Please contact your local education provider for specific details regarding their T Level offer
his is the place where your career journey in Healthcare starts
We are partnering up with local colleges and educational providers to offer placements to students on 2 year T Level programmes in Health and Healthcare Science. Students will join us for a programme of insight and training days as well as over 315 hours of hands on placement time in a clinical setting alongside Health Care Assistants, Nurses, Allied Health Professionals, Healthcare Scientists and a whole range of other NHS professions.
You will gain a real sense of what it's like to work in the NHS and have the chance to decide whether it's the right career path for you. The journey doesn't stop there however! Embarking on the Cadet Programme can help you get the qualifications and experience to undertake further study to become a healthcare professional of the future as well as opportunities to gain meaningful employment within the NHS. We are working hard at CHFT to set up new pipelines for our Cadets to move into full time paid employment and apprenticeships
This is the place where CHFT staff are passionate about sharing their knowledge and time to advise and help inspire our future workforce
"Did you know there are hundreds of staff across the CHFT who volunteer their time to support our local communities"
Our staff get involved in a number of ways
Careers Events and Resources
Staff from CHFT support Careers Events, Mock Interviews, Presentations, Talks, Speed Networking, and Insight Days at CHFT and in Schools and Colleges, across Kirklees and Calderdale
If you are a School, College or other organisation and are organising a Career Event and would like the CHFT to support this or access us here at CHFT please complete: