Board of Directors
The Board meets once every two months and is open to members of the public. It has a responsibility to make sure there is a clear strategic direction for the Trust and that it fulfils its statutory responsibilities in relation to finance, governance, clinical quality and partnership working. It is made up of Executive and Non-Executive Directors.
The Board of Directors has a responsibility to make sure there is a clear strategic direction for the Trust and to fulfil its statutory responsibilities in relation to finance, governance, clinical quality and partnership working. It has a role to validate the performance of the organisation via the Executive Management Board. The Board of Directors is supported by a Committee structure including an Audit and Risk Committee, which have agreed terms of reference.
The Executive Board is responsible for putting together strategic and business objectives that develop Trust services in response to local needs. Trust directors along with members of our senior leadership team form the Executive Board.
Brendan Brown - Chief Executive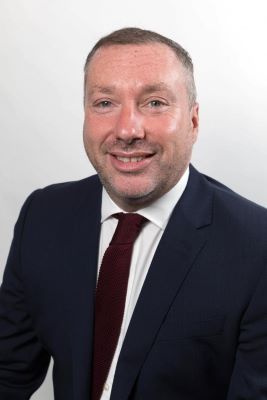 Brendan returned to CHFT in January 2022 following almost four years as Chief Executive at Airedale NHSFT alongside his role of System Partnership Lead for the Airedale, Wharfedale & Craven Partnership.
He had previously held the position of Executive Director of Nursing/Deputy Chief Executive at both Calderdale & Huddersfield and Burton Hospitals NHS Foundation Trusts. Brendan has a clinical and therapeutic background, and holds a Masters with Distinction from the University of Nottingham. He has a proven track record for health and care leadership, and consistent improvements in the delivery of healthcare across hospital and community settings.
Brendan was also selected to participate in first cohort of The National Leadership Centre programme, a cabinet supported programme developed to enhance the social and economic well-being of the country by supporting the leaders of public services to work together across the public sector system.
As Chief Executive and accountable officer, Brendan is responsible for the stewardship of the Foundation Trust, including developing an appropriate corporate strategy for Board approval and securing its timely and effective implementation. He provides leadership to the executive team and takes responsibility for the important external relationships with commissioners, regulators, local authorities, MPs and Government bodies.
Rob Aitchison - Deputy Chief Executive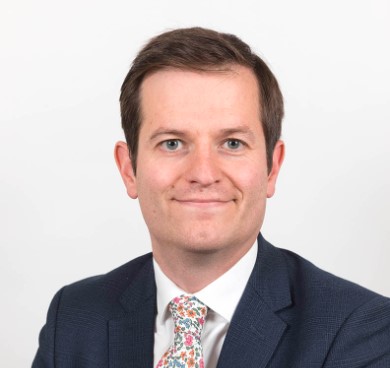 Rob returned to CHFT in November 2022 following almost four years at Airedale NHS Foundation Trust as Chief Operating Officer / Deputy Chief Executive.
His role at Airedale involved being responsible for the day-to-day operational running of the hospital and community services. During this time he also led the Bradford District & Craven Ageing Well Programme.
Rob previously joined CHFT in 2009 and during his 10 years at the Trust held several positions including Director of Operations.
In his Deputy Chief Executive role, Rob has a broad range of responsibilities within the executive team and across the organisation including being the executive lead for Community services, Health Inequalities and Trust's operational reconfiguration activities.
Rob holds a Masters in Health Management and is a graduate of the NHS General Management Training Scheme.
Anna Basford - Deputy Chief Executive, Director of Transformation and Partnerships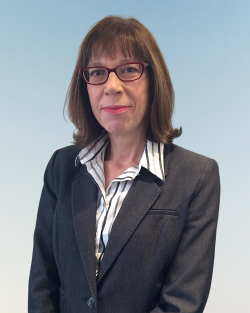 Dr Anna Basford was appointed as the Director of Transformation and Partnerships at Calderdale and Huddersfield NHS Foundation Trust (CHFT) in 2013, and in 2022 was appointed as Deputy Chief Executive. Anna is the Trust's Reconfiguration Programme Director.
Anna has a breadth of Director-level experience of leading successful transformation programmes across NHS Commissioning, Primary Care, Community, Mental Health, and Acute Hospital organisations. This has included: leading transformation and turnaround planning to improve clinical and financial viability; developing and implementing district wide primary and community estate strategy (LIFT); integrating health and social care to establish intermediate care centres and a community hospital; leading organisational change to embed service improvement and redesign through the establishment of a LEAN academy.
Anna has BSc (hons) and PhD in Biochemistry and Applied Molecular Science (University of Manchester), is a graduate of the NHS General Management Training Scheme (University of Manchester Business School) and has the Certificate in Managing Health Services (Institute of Health Services Management).
Dr David Birkenhead - Executive Medical Director
Initially appointed on an interim basis in June 2014. Permanent appointment from July 2015.
David has been working in the Trust as a Consultant Microbiologist since 2000. He has held a number of senior clinical leadership roles in the Trust and was appointed to the post of Medical Director in July 2015, he continues in his role as a Consultant Microbiologist on a part time basis.
As Medical Director, David shapes and leads the clinical services delivered by the Trust in order to drive the best health outcomes. Current large scale projects include reviewing how the Trust delivers care across the community and the hospitals, the development of 7 day services, and the implementation of an electronic patient record.
The Medical Director provides a professional lead for allied health professionals and medical staff and as the Trust's Responsible Officer makes recommendations to the General Medical Council around medical revalidation. David also takes the lead on education and training, research and development and infection control.
Robert Birkett - Chief Digital and Information Officer (CDIO)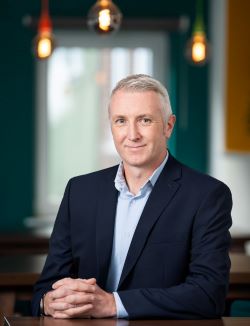 Rob has been part of CHFT's digital journey for more than 20 years, before moving into the role of Chief Digital and Information Officer (CDIO). Over those years he has a proven track record of delivering digital services both into CHFT as well as across a wide range of health and social care partners throughout the region and nationally with The Health Informatics Service. Prior to joining CHFT, Rob gained invaluable experience within the private sector and the military.
Since his part in the Trust's Electronic Patient Record programme, where he was responsible for the transition into operational delivery, Rob has focused on the integration of patient records at place level as well as continuing to grow The Health Informatics Service and maintain its reputation for exceptional service delivery across the system.
Rob is proud to be part of a digitally mature, forward thinking Trust and can see the further potential for digital as an enabler and the direct impact that it has on delivering compassionate care to our patients.
Rob has an MBA from the University of Huddersfield and has been part of the WY&H ICS Shadow System Leadership Executive programme, learning with senior leaders from across the whole public and charity sector. He is also an advocate for CHFT's Armed Forces Network.
Gary Boothby - Executive Director of Finance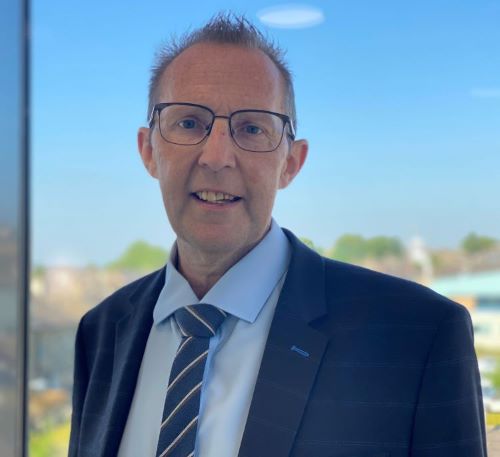 Gary has been Finance Director since November 2016. Previously he was the Deputy Director of Finance from March 2016. Gary joined the Trust from the Mid-Yorkshire Hospitals NHS Trust where he had been the Deputy Director of Finance. Gary has over 25 years experience and is both a Chartered Management Accountant and a Chartared Public Finance Accountant.
Gary joined the NHS as a finance trainee following his graduation from the University of Humberside where he studied Accounting and Finance, and then went on to become a Chartered Management Accountant in 1996 whilst at Burnley Healthcare NHS Trust.
A large part of his career has been in senior divisional finance roles at both Mid-Yorkshire Hospitals NHS Trust and at Pennine Acute Hospitals where there was a strong track record of working closely with Divisions to deliver both patient improvements and financial efficiencies.
In addition to his role as Finance and Contracting lead, Gary also has responsibility for the Huddersfield Pharmaceuticals Service (HPS) and client relationships with Estates and Facilies partners across the Trust.
Suzanne Dunkley - Executive Director of Workforce and Organisational Development
Suzanne joined the Trust in February 2018 with experience across both the private and public sector in strategic HR roles. Beginning her career at Pinderfields Hospital, Suzanne spent 8 years leading a dotcom before moving into Local Authority and Transport Sectors.
She believes that the role of HR is to spot talent and help it grow, that a great employee experience leads to a great patient experience, and that organisations that work together can achieve the impossible.
Jonathan Hammond - Chief Operating Officer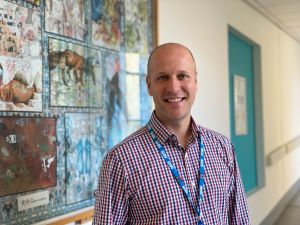 Jonny is our Acting Chief Operating Officer, having previously been the Director of Operations in Medicine since October 2020.
Jonny has been in the NHS since 2002 having qualified as a Physiotherapist where he gained experience predominantly in Leeds across a number of clinical areas. He then worked as a Physiotherapist at CHFT leading the trauma orthopaedic team before moving in to management of therapy teams.
Following a role focusing on quality and safety in the Medical Division, he moved to Harrogate Foundation Trust where over the next three years he held General Manager roles across the entirety of Surgery before holding the post of Director of Operations in Surgery for four years. Jonny then 'came back home' to CHFT for the Director of Operations role in medicine.
Throughout his career Jonny has focused on continual improvement of clinical services both when working clinically and in management roles. He has a strong focus on people and team development in order to support our staff so that they can provide the best possible clinical services for the patients they serve.
Victoria Pickles - Director of Corporate Affairs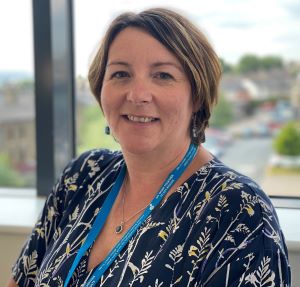 Vicky re-joined the Trust in June 2022 following three years as Director of Corporate Affairs and Deputy Chief Executive at Airedale NHS Foundation Trust.
She was previously Company Secretary at CHFT for five years, following two years as Director of Corporate Affairs at Leeds Community Healthcare NHS Trust.
Vicky also has nine years' experience in primary care in roles covering communications, media relations, complaints, patient and public involvement and corporate governance.
An Affiliate Member of ICSA: The Governance Institute and a Member of the Chartered Institute of Public Relations, Vicky is also the Vice Chair of Overgate Hospice in Calderdale, and a Trustee of Mountain Rescue England and Wales.
Lindsay Rudge - Chief Nurse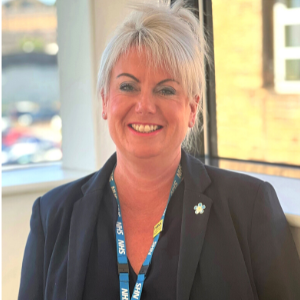 Lindsay's journey with CHFT started in 1993 following completion of her Registered Nurse training, and she has worked for the trust throughout her career. She has extensive experience within senior nursing and leadership roles across all our services.
She is an energetic leader with an inclusive approach who puts patients and people first. Lindsay is passionate and committed to engaging with colleagues to be ambitious in improving patient outcomes, promoting equality and diversity to enhance patient, service user, family and carer and colleague experience.
She is a strong advocate for compassionate leadership, health and wellbeing and in empowering colleagues to be able to lead improvements in patient safety and quality.
Lindsay holds a Masters in Business Administration (MBA) and an Executive Diploma in Strategic Management.
Who are The Non-Executive Directors?
Non-Executive Directors, including the Chair, are not full time NHS employees. They are people who live or work in the area and have shown a keen interest in helping to improve the health of local people.
Chair
Appointment: July 2022 - June 2026
Helen was born and brought up in Wakefield and has lived at Grange Moor on the Wakefield/Kirklees border for 19 years. She is married to Ian and has a teenage daughter, step daughter and two grandchildren.
Prior to becoming Chair she was the Chief Executive of Bradford District and Craven Clinical Commissioning Group. She worked in Bradford for nearly 30 years although had two years in London working for the Department of Health during the NHS reforms of 2010. She did a short spell in York supporting the CCG there and a part time role in NHS England leading the national CCG development programme. She is also a trustee with two charities – Wakefield Hospice and Staying Put.
Helen's early career was in HR and she worked in local government and the private sector before joining the NHS.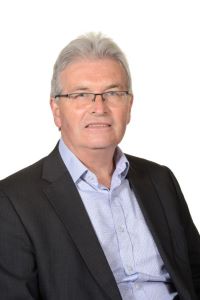 Non-Executive Director
Appointment: 1 September 2022 to 31 August 2025
Nigel is a chartered accountant with 40 years' experience of working in the public sector. Most of this has been in local government including as the Chief Finance Officer for Calderdale Council. His experience is primarily in finance but also covers transformation, performance management and large capital projects and increasingly working over recent years with colleagues in the health sector.
His role at the Trust will include chairing the Audit and Risk Committee (from September 2022) and will be a member of the Finance and Performance Committee, the Charitable Funds Committee and the Huddersfield Pharmacy Specials Board. He will also be representing the Trust at Audit Yorkshire meetings.
Nigel lives in Lindley with his wife and has two sons.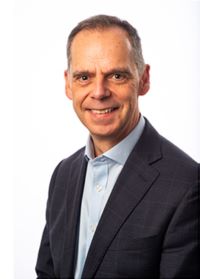 Non-Executive Director and Chair of CHS Ltd
Appointment: June 2022 - May 2025
Tim has worked in Board positions as CFO/Finance Director for commercial companies for more than 25 years.
He has worked in different sectors – engineering, consumer goods and more recently pharmaceuticals. He is currently CFO for a pharmaceuticals company in Leeds as well as joining us on the Board of CHFT. In these roles he has acquired a wealth of operational, commercial and change management as well as financial experience.
Tim lives in Ilkley West Yorkshire with his wife Kathie, he has a son Dan who is currently studying at university. He enjoys mountain biking, walking, socialising with friends and is a keen football fan.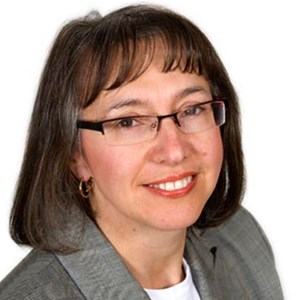 Non-Executive Director
Appointment: March 2016 to February 2024
Karen lives in Hade Edge, Holmfirth and was previosuly Director of Human Resources at the University of Manchester until her retirement in November 2021. She was responsible for developing and implementing people strategies to support the University's goal to be a world leading research led University by 2030.
Karen has held a number of senior human resource positions across different sectors including the not-for-profit and private sectors. As a member of the Chartered Institute of Personnel and Development she has operated as a Director Human Resources for over 25 years and is very experienced in transformational change within complex organisations. Karen is a member of the CBI's employment and skills Board.
Karen has also served as a Non-Executive Director of One Manchester and Chair of the Remuneration Committee. She has also served as an independent member of the Prison Service Review Body advising the Government on pay and terms and conditions for staff in the prison service.
Karen is Chair of the Workforce Committee at the Trust. She is also a member of the Trust's Quality Committee and Nominations and Remuneration Committee of the Board of Directors.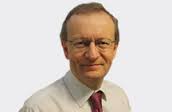 Non-Executive Director
Appointment: October 2017 - September 2024
Andy is an experienced Technology and Business Transformation executive with a successful 30-year track record in Central Government, Management Consulting, Retail and Finance sectors. Key positions held include being the group executive with global responsibility for Strategy, IT and turnaround programmes at RSA Insurance and several large-scale CIO roles in the private and public sectors including HM Government CIO. He was previously a Non-Executive for the Disclosure and Barring Service and for The Law Society, a guest lecturer at Lancaster University Management School.
With the Trust Andy is Chairs the Audit and Risk Committee and is a member of the Transformation Programme Board. He also Chairs the Green Planning Committee, the Security and Resilience Group and attends the Health Informatics Service Executive Board. He is a volunteer with the Princess Trust providing bsuiness mentoring to young people. He is married with three grown-up sons and has lived in Barkisland since 1996.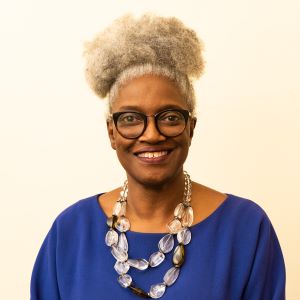 Non-Executive Director
Appointment: January 2020 – December 2025
Denise is an Occupational Therapist by profession with 38 year experience within the NHS and has held a variety of clinical, managerial and professional leadership positions. Most recently until retirement she held the position of Head of Occupational Therapy at the Leeds Teaching Hospitals Trust.
Denise led on the delivery of a wide range of quality improvements in clinical practice with positive outcomes for patients. She believes it is essential that people work together for the best interests of patients and truly listen to patients and the communities served to understand what they need.
Denise has worked closely with colleagues across health, social and voluntary sectors to develop and deliver patient centred health and care services.
A member of the Royal College of Occupational Therapists she has served as Council Member and Chair of the Equalities Committee.
Denise has a special interest in education and in an advisory capacity supports local universities in the development and accreditation of undergraduate and post graduate programmes. She is also a Trustee and Chair of the Secondaries Committee for Bradford Diocesan Academies Trust.
Denise is the Chair of the Quality Committee and attends Audit and Risk Committee and Workforce Committee and chaired the Oversight Committee.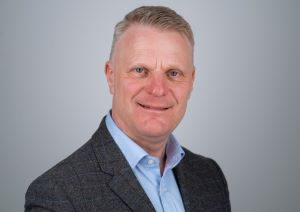 Non-Executive Director
Appointment: January 2020 – December 2025
Peter Wilkinson lives in Holmfirth and is a Chartered Surveyor with significant executive level experience for over 30 years at both a Big4 consulting firm and Real Estate firm, where he was an equity partner. Peter has particular expertise in advising on the delivery of business transformation across property, infrastructure & capital projects, leading on programme and project management incorporating wider business teams and stakeholders for both public and private sector clients.
His leadership of organisational wide transformation with solid and practical use of Managing Successful Programmes (MSP), PRINCE2 and Portfolio Management will be especially useful as the Trust embarks on its' large and complex Reconfiguration of Services at both Halifax and Huddersfield in the coming years.
Peter currently has his own consultancy business, based in Holmfirth, and has a number of other Non-Executive Director roles and Consultancy commissions across the North of England.
He is married with one son and has lived in Holmfirth for over 20 years.
Peter is Chair of the Transformation Programme Board, and attends Finance and Performance Committee, Charitable Funds Committee and Pennine Property Partnership Board.
Associate Non-Executive Directors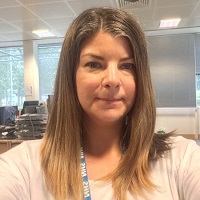 Associate Non-Executive Director
Appointment: December 2021 - December 2023
Nicola is a Criminologist who currently heads up the Health and Justice service for NECS with over 20 years' experience within criminal justice / public sector and a background in Youth Offending Services, 'Looked after' young people, local government transformation and Health and Justice commissioning.
Nicola is an Associate Non-Executive Director at the Trust focused on the Quality agenda and Chairs the Patient Experience Group.