Smoke free CHFT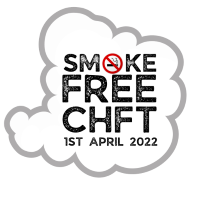 Our Trust – like all others – is looking to be totally smoke free by 1st April 2022. We want to protect our patients, staff and visitors from second-hand smoke and help provide a better environment for all.
Currently we do not allow smoking anywhere inside our two hospitals Calderdale Royal Hospital and Huddersfield Royal Infirmary.
The effects of second-hand passive smoking are well known so smoke-free policies were introduced to reduce the risks for everyone.
There is currently provision of smoking shelters, away from the main entrances and in public areas in the grounds at both hospitals, for anyone wishing to smoke. These are clearly sign-posted and we thank our staff, patients and visitors for using them and supporting us in maintaining a pleasant environment for all.
We will be removing all our smoking shelters before April 2022.
Support to stop smoking - Calderdale
Calderdale Council's Better Living Service offer advice and support here.
Yorkshire Smokefree also offer a range of medications and face to face, online or telephone support to help you quit smoking. Stop smoking clinics are available in Halifax, Brighouse, Elland, Sowerby Bridge and Illingworth.
Laura Mitchell Health and Wellbeing Centre
Great Albion Street,
Halifax,
HX1 1YR
Telephone number: 01422 262373
0800 621 0011 free from landlines
0330 660 1166 free from mobiles
Support to stop smoking - Kirklees
Kirklees Council offer support and guidance in their Stop Smoking pages here.
Support to stop smoking - Bradford and Wakefield
Other support to help you stop smoking
Nicotine replacement and e-cigarettes
NICOTINE REPLACEMENT
Nicotine replacement therapy (NRT) is available as skin patches, chewing gum, inhalators, microtabs, lozenges, nasal and mouth spray. You can buy it over the counter from a pharmacy or your GP or stop smoking service can prescribe it, making it FREE if you are pregnant or exempt from prescription charges.
NRT is medication that provides you with a low level of nicotine, without the tar, carbon monoxide and other poisonous chemicals present in tobacco smoke. It can help reduce unpleasant withdrawal effects, such as bad moods and cravings which may occur when you stop smoking.
NRT patches are available which can be applied for 16 hours (apply in the morning and remove before bed) or for 24 hours
NRT for use during pregnancy – intermittent treatments are preferable to patches and liquorice-flavoured products should be avoided. If patches are used the 16 hour patches should be applied in the morning and removed before bed
E-CIGARETTES
An e-cigarette is an electronic device that delivers nicotine in a vapour. This allows you to inhale nicotine without most of the harmful effects of smoking as the vapour contains less chemicals, no tar and no carbon monoxide.
E-cigarettes are fairly new so the effect of long term use on health is not known and they are not licenced. Research has found that e-cigarettes can help you
Extra support to reduce alcohol consumption
CALDERDALE
Calderdale Recovery Steps
Telephone number: 01422 415550
Calderdale adult drug and alcohol services, have two hubs which are each open 9am to 5pm Monday to Friday, open to 7pm Thursday. These are there addresses below:
Halifax Recovery Steps
St. Johns House,
2 St. Johns Lane,
Halifax,
HXI 2JD
Todmorden Recovery Steps
32 Burnley Road,
Todmorden,
OL14 5EZ
http://calderdalerecoverysteps.org.uk/
KIRKLEES
CHART - On TRAK
On TRAK is the alcohol treatment service for adults over 18 years of age, residing in Kirklees. This is a service for dependent drinkers and for people who are experiencing problems as a result of their alcohol use and who may be at risk of dependency.
CHART Huddersfield Alcohol Services
Telephone number: 01484 437907
2 St Peter Street,
Huddersfield,
HD1 1RA
CHART Dewsbury Alcohol Services
Telephone number: 01924 486170
15 Union Street
Dewsbury
WF13 1BG
https://kirkleesinrecovery.com/services/chart-kirklees/
WAKEFIELD
Turning Point
Telephone number: 0300 123 1912 (Option 1)
Grosvenor House,
8-20 Union Street,
Wakefield,
WF1 3AE
http://wellbeing.turning-point.co.uk/wakefield/hubs/wakefield-hub/
BRADFORD
New Directions
Telephone number: 01274 296023
Pelican House
10 Currer Street,
Bradford,
BD1 5BA
Website: https://www.changegrowlive.org/content/new-directions-bradford
Useful websites
Here are some useful websites where you can read more about alcohol:
Useful phone apps
Peer support groups