Clinical Assessment Service (CAS)
'Getting you to the right place - first time - every time'
Clinical Assessment Service means that when your GP makes a referral to Calderdale & Huddersfield NHS Foundation Trust it is reviewed by a senior clinician to identify the best pathway for you as a patient. This means you will only be invited to an appointment if it's clinically needed.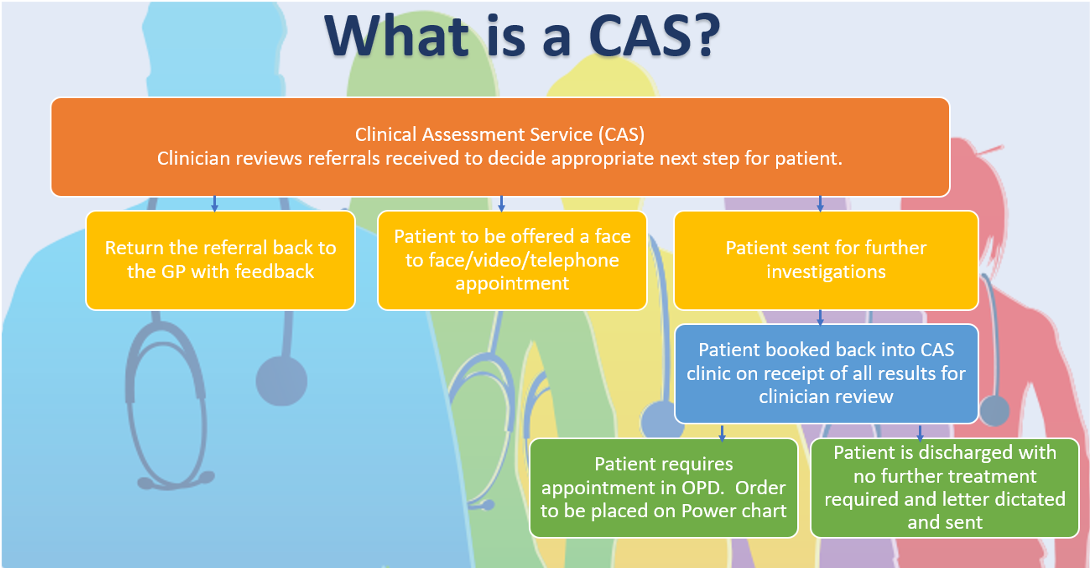 The above diagram says:
Clinical Assessment Service (CAS)
Clinician reviews referrals received to decide appropriate next step for patient.
The outcome of this would be one of following:
Return the referral back to the GP with feedback
Patient to be offered a face to face/video/telephone appointment
Patient sent for further investigation
If the patient is sent for further investigation, the patient would be booked back into CAS clinic on receipt of all results for clinician review.
The outcome of this would be one of the following:
Patient requires appointment in OPD. Order to be placed on Power chart
Patient is discharged with no further treatment required and letter dictated and sent